I was created in God's image.
You were created in God's image.
Heck, we all were.
What does that mean to me, personally? In the past, it's been complicated. Because of struggling with self-worth before I found Christ, some of those feelings carried over naturally. Christ has helped overcome those feelings, although that's not to say there aren't days when I fail and fall at seeing myself the way He does. Sometimes I let feelings of inadequacy creep in, or let myself believe the lies that I'm not "good" enough for certain things.
But, guess what? In Genesis 1:31, after God created everything, including man, He saw that it was very good. He was pleased with the creation He made in His own image. And He still sees us as very good, as He did back then. We were made to glorify and honor Him. We were made to strive to be like Christ each and every day. We were made in His image, by His loving hand. Of course, we can't be perfect as Jesus was, but God made us to be His creation, His prized possession, His precious sons and daughters, and to give Him the glory for who He made us to be.
So, when I begin to think badly of myself, I need to remember that God doesn't see me outwardly, and neither should I. Sure, He made me to look as I do, but He looks past my DNA and appearance. He is looking for a Godly soul. One that fears and worships His holy name every single day. One that believes in His son Jesus and strives to be more like Him each day. One that knows she was created in His image.
Lord, thank you for creating me in Your image specially and uniquely to worship you and for equipping me to be your servant here on Earth. Amen.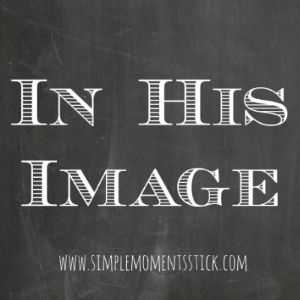 Linking up today with Susannah at Simple Moments Stick!